All fighting within cities and all bombardments of urban spaces, even the most "precise and surgical", is a potential death trap for civilians. Consequently, the permeation of war into cities inevitably transforms their inhabitants into potential human shields.
For Palestinians living in Gaza today, simply spending time in their own homes, frequenting a mosque, going to a hospital or to school has become a dangerous enterprise since any one of these architectural edifices can become at any moment a target. One can no longer safely assume that the existence of masses of human bodies - even the bodies of children - in civilian spaces can serve as defence of the weak against the lethal capacity of the hi-tech states.
But since hi-tech states can and do kill hundreds or thousands of civilians, they have to provide moral justification for their action in order to preserve their standing in the international arena; they have to demonstrate that they are protecting the principles of liberal democracy. It is precisely within this context that we should understand the series of posters recently disseminated by the Israeli military through its Twitter account, Facebook and blogs.
Advertisement

The poster "Where do Gaza Terrorists Hide Their Weapons" is a paradigmatic example, where the subtext does the speaking: Houses, mosques, schools, and hospitals are legitimate targets because they are presumed to be weapon depositories.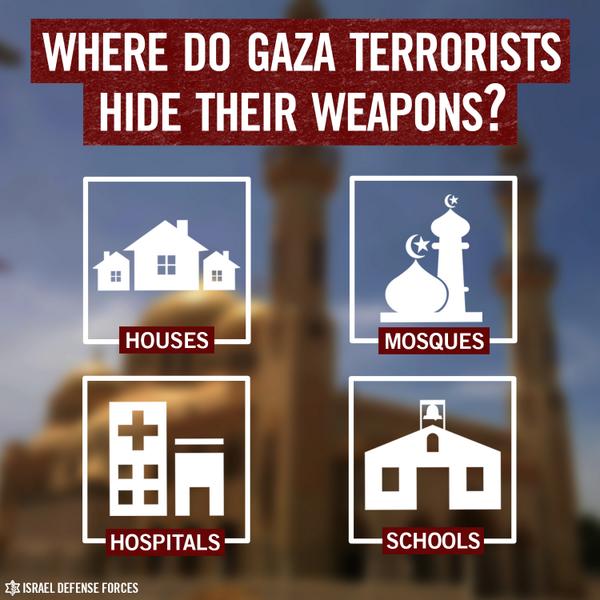 This is also the message in "When Is A House a Home?" which simply zooms in on one of the images in the previous poster, showing how Palestinians presumably hide rockets in civilian homes.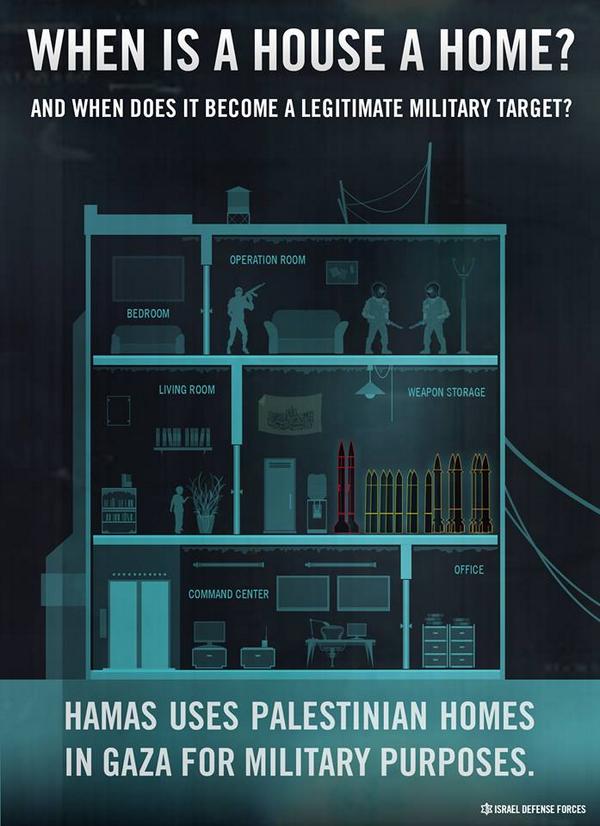 The logic is straightforward: insofar as Hamas hides weapons in houses (illegitimate), Israel can bomb them as if they were military targets (legitimate). Within this framework, a single function (hiding weapons) out of many existing functions (home, shelter, intimacy, etc) determines the status of an urban site (in our case the house), so that the edifice's form loses its traditional signification.
The question "when does it become a legitimate military target?" is merely rhetorical. Its real meaning is: "All houses in Gaza are legitimate targets" since all houses are potentially non-homes.
Advertisement

Not unlike colonial as well as other vastly asymmetrical wars, Israel's legitimisation for its indiscriminate bombing is premised upon a profound moral disjuncture between Israelis and Palestinians. In the poster "Israel uses weapon to protect its civilians. Hamas uses civilians to protect its weapons", Palestinians are depicted as barbarians who ignore the elementary grammar of international law.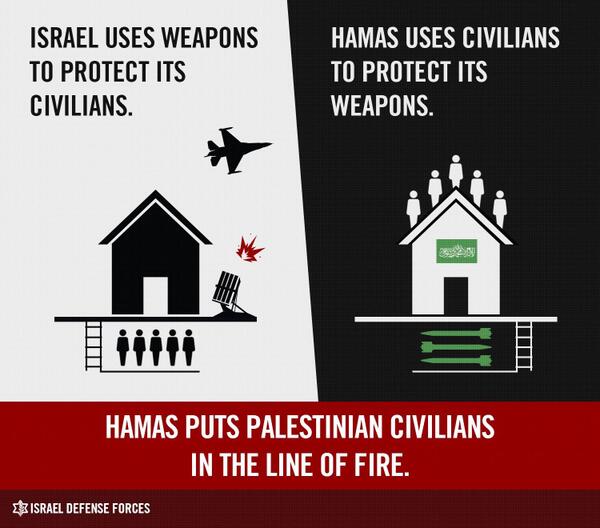 Israel's warfare is, however, not only about the re-signification of architectural structures, but also about the transformation of human beings into collateral damage, subjects who can be killed without violating international law. This is the subtext of the poster featuring Israel's Chief of Staff saying: "Even as we carry out strikes, we remember that there are civilians in Gaza. Hamas has turned them into hostages."
Discuss in our Forums
See what other readers are saying about this article!
Click here to read & post comments.
40 posts so far.