Australia has the potential to benefit extensively from its strategic position as an industrialised net exporter of energy. In particular, there are a number of elements of the nuclear fuel cycle where Australia could make a valuable contribution and enhance its economic prosperity. The need for local nuclear power generation will be determined by politics, pricing and competitive technologies.
The key stages in the nuclear fuel cycle are:
· front end processing with mining and enrichment
Advertisement

· electricity generation
· back end reprocessing, disposal and recycling of spent fuel
Australia currently has no business activity beyond mining and has regulatory barriers for a number of activities at other stages. Despite these constraints, Australia has made significant technical contributions to enrichment through Silex Systems and the disposal of spent fuel with Synroc.
1 Cost of uranium oxide reactor fuel
The three key process segments in the fuel cycle are mining, enrichment, and reprocessing and disposal of spent fuel.
In mid 2011, the approximate US dollar cost to create one kg of uranium as UO2 reactor fuel is shown in Table 1. This table highlights how the majority of the economic value add in the uranium fuel cycle occurs at the point of U3O8 , enrichment and the back end of the fuel life cycle, the reprocessing or long term disposal.
Advertisement

Table 1 US $ costs for processes in the uranium fuel cycle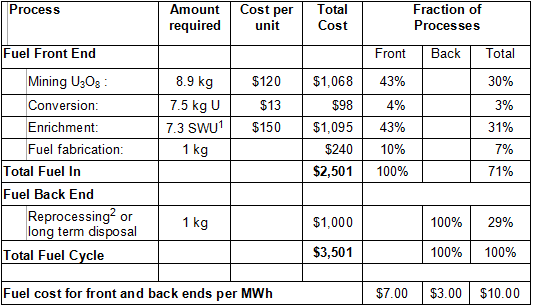 Notes: 1: SWU Separative work unit for uranium enrichment.
A more detailed paper can be found at: http://www.ceda.com.au/research-and-policy.
Discuss in our Forums
See what other readers are saying about this article!
Click here to read & post comments.
16 posts so far.
Tom Quirk is a director of Sementis Limited a privately owned biotechnology company. He has been Chairman of the Victorian Rail Track Corporation, Deputy Chairman of Victorian Energy Networks and Peptech Limited as well as a director of Biota Holdings Limited He worked in CRA Ltd setting up new businesses and also for James D. Wolfensohn in a New York based venture capital fund. He spent 15 years as an experimental research physicist, university lecturer and Oxford don.